Work experience
Education
European Marketing manager
Cognosec Ltd / London, UK (June 2016 - Present)

Reporting to the CEO, as the European Marketing Manager I am responsible for helping the Sales team increase revenue through the continuous development, implementation, execution, and measurement of a Marketing Strategy and Marketing Plan across Europe, which includes:


Lead Generation strategies — coordinating and collaborating with the Sales Director to identify & accelerate revenue generating activities and improve client & prospect interaction and engagement for the Sales team
Develop and Maintain all Digital Assets (Website, Social media profiles, Logo, Photos, Graphics)
Develop and Maintain all Marketing Collateral (Print, Flyers, Banners, Show Stands, Badges etc)
Develop, Maintain and Report all Inbound Digital Content and Landing Pages
Develop, Execute and Maintain Inbound, Web, and Social Media Content Plan
Create Monthly, Quarterly, and Annual Marketing reports, tracking social media metrics and website analytics through HubSpot (automation tool similar to Salesforce) / Google Analytics / social media analytics
Create Annual Marketing, PR, and IR Budget (compilation, submission and reporting)
Develop and Maintain the Corporate Identity; ensuring consistent logo and trademark use
Develop Brand Message and identify Brand Ambassadors
Develop, Execute and Maintain Brand Awareness strategies
Freelance SEO & digital marketing manager
Freelance (2010 – Present)

Optimise websites to get first page organic search results on target keywords; manage digital marketing campaigns through Google AdWords; use Google Analytics to increase conversion based on analysis of data; brand awareness research and PR management.

Launched and continue to manage the digital marketing campaign for Utostuga.se - a website for vacation rentals on the island of Utö in the Stockholm archipelago (Sweden).

Achieved #1 organic search result (ahead of the corporations with large budgets) when searching for rentals of cottages on Utö ("hyra stuga Utö"). Actively manage the geographic display of ads, the date and time of the ads in order to maximise the conversion rate on a tight budget.
Co-founder / Marketing & Investor Relations
Couthie's (2013 - present)

At Couthie's I am responsible for organising investor materials, attracting investors, pitching the investment proposal, arranging investor meetings, and am constantly monitoring the branding and marketing strategies.
Angel Investor / Business Strategy Consultant
California Energy Products LLC (2013 - present)

For California Energy Products LLC, I offer consulting services and act as an active angel investor for Blast Power Gum, the caffeinated chewing gum, which is as powerful as a RedBull drink, and which will be entering the US market 2014.
Owner / Strategic Management Consultant
Strategic Consulting Monaco (2013 - 2014)

Strategic Consulting Monaco provides consulting services in business strategy combined with search engine optimisation, search engine marketing, and social media branding and marketing.

Strategic Consulting Monaco aligns technology solutions with business strategies, working principally with client senior executives and business unit management professionals. Requirements are assessed, and intelligence is provided to the organisation regarding business requirements and management needs and concerns. Strategic Consulting Monaco also educates and manages expectations of senior executives and business unit heads to the realities, challenges, and fundamentals of technology.

Izabella combines her skills as an MBA graduate with five years of work experience specifically in IT and business strategy, with her recent experience as a management consultant, and a developed and constantly growing social network to deliver results.

In addition to the strategic business consulting services, Izabella can help find seed capital, investors, and target and define new markets.

Projects included:

- Ambassador for Skygd AB: the small, Swedish IT company focused on personal security products with GPS locators.
- Corporate communications & Investor relations for "Couthie's": the IT company focused on privacy for internet users
- Brand ambassador for "IT Moves it" bespoke asset management software Leadinius. IT Moves it creates Leadinius; an innovative all-in-one solution that monitors, manages and reports on all aspects of luxury asset management.

Management Consultant
Bearing Consulting Ltd, London, Stockholm (2012 - 2013)

Provided consultancy services to companies and government organisations; evaluated markets in London, Stockholm, Monaco and other European countries, as well as in the Middle East. Found venture capital, conducted negotiations, brought national companies to an international market. Performed sweet spot analysis, defined and developed innovation and place management strategies and worked on the implementation of these.
Communications and online strategy consultant
SKMG, Monaco (2004 - 2008)

SKMG builds consumer internet services - social networking, photo sharing and classifieds websites.

Working in a small team, I was managing the off-site customer service team, supervising translations of websites, and analysing and managing the online marketing campaigns for 12 websites.
Extensive use of Google Analytics, AdWords and AdSense whilst identifying new marketing channels, developing TV-ads and other offline marketing materials whilst safeguarding the corporate identity.
Organised several events (more than 400 attendants), and was also developing and evaluating new features such as the chat room, messaging service, photo uploader system, log in screen, tabular navigation, search engine, search results visual display, matching service, advanced search. Performed website usability analysis for 12 different websites.
Management Training Coordinator
Inter IKEA Systems B.V., the Netherlands (2003-2004)

Inter IKEA Systems is the owner of and worldwide franchisor of the IKEA concept; turnover of 26 billion euro; the largest furniture supplier in the world.

Coordinated, planned & organized management training for managers at the IKEA Business College campus.

Sole responsibility for coordination of training, with 100% on time delivery.
Contract administrator
Equens, the Netherlands (2002)

Equens; intermediary between retailers and banks, offering credit and debit card payment solutions; 9.7 billion transactions and 3.9 billion POS and ATM transactions.

Administrative & telephone support to banks during the process of reviewing merchants' contracts.

Analysed the Intranet usability and reported on how to improve the user experience (many of the suggestions were also implemented). Work conducted solely in Dutch.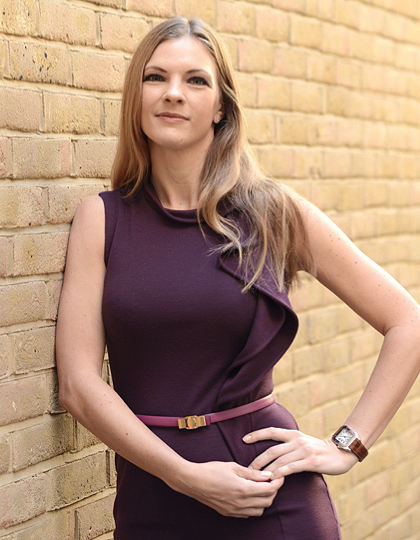 Recommendations

"Izabella's strength is her total attention to detail. She has a very good and broad knowledge of marketing and is especially good at creating lead generation campaigns. Izabella is exceptionally reliable and able to perform complex tasks without supervision. She is meticulous with regards to planning and reporting. I would recommend Izabella to anyone who is looking for a dedicated, self-motivated and intelligent Marketing Manager who is able to command the respect and the support of her team."
Andrew Brown, Managing Director Europe, Cognosec

"Izabella was one of the most impressive students in the MonacoMBA class of 2012. Always curious and eager to learn, she asked the kinds of the questions which demonstrated clear critical thinking skills and an outside of the box approach to problems. Always professional in every respect, Izabella was ambitious not only to learn, but to also apply what she learned in different practical situations.She has excellent leadership and team building skills, as well as an entrepreneurial mindset, and I would be happy to recommend her in any capacity."
Marika Taishoff, Director of the MBA Program, International University of Monaco

"Izabella is always in pursuit of a good customer and user experience and is direct and clear in many of her opinions and observations regarding this topic. She is professional and punctual."
Nathan S, SKMG

"It was a pleasure to work with Izabella during her MBA program at IUM where I was working with the Career Services team especially during an intensive one-week career seminar in mid-January 2012. Izabella is one of those rare individuals that combines a strong drive and personality with humility and intelligence and I wholeheartedly recommend her for any position that match her extensive skills."
Ken Pope, Visiting Faculty & Careers Counselor, IUM